Car Weighing
Knowing the weight of a car is important. We utilize load cells, which enables the process to be completed just about anywhere. Using this method, we can obtain precise measurements side to side and end to end. All that is required is a level facility with jacks that can lift the wheels of the car off the tracks. This is now a requirement for operating on Amtrak.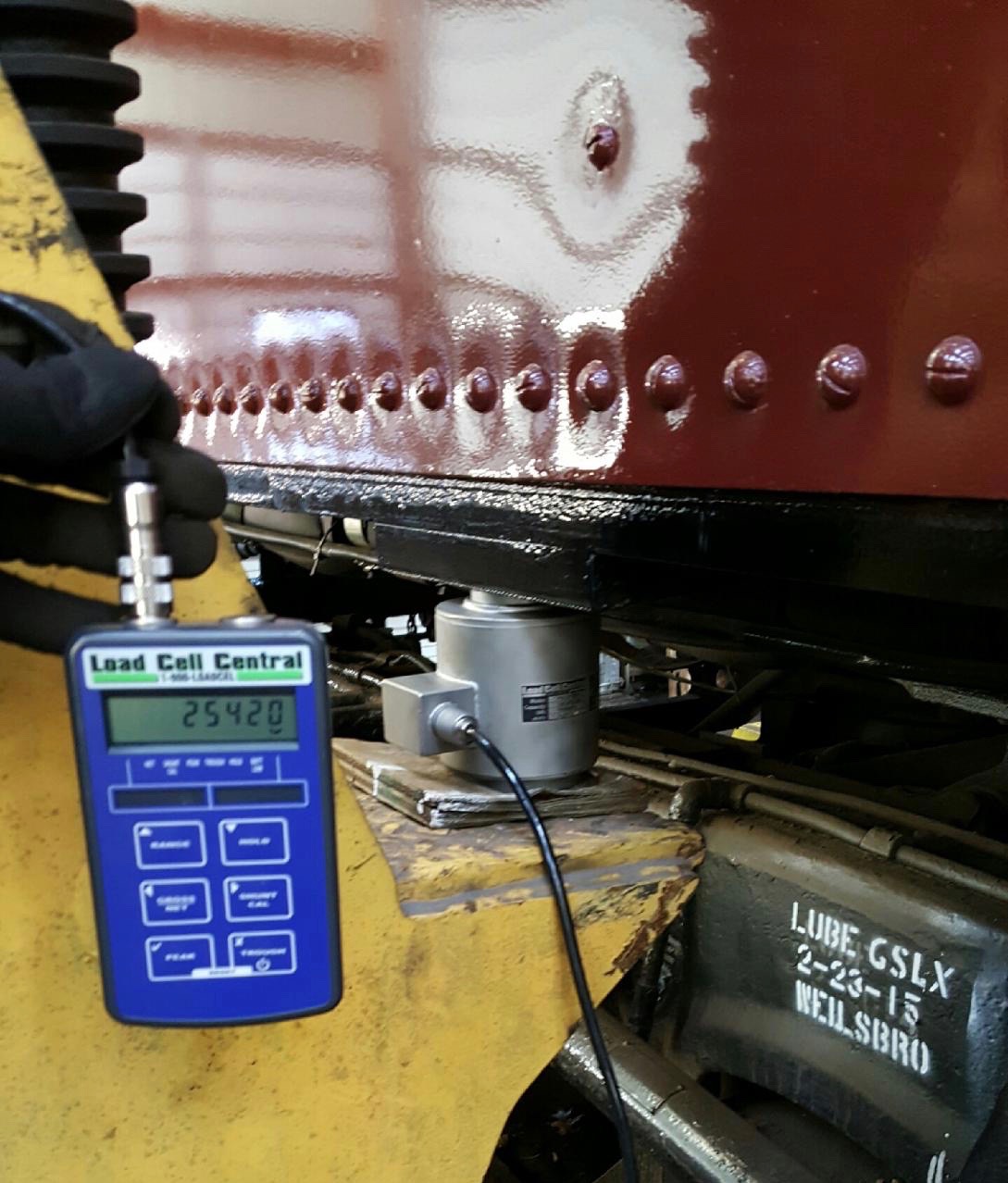 Load Cell in place taking measurements.
Historically accurate restorations
Attention to detail is what determines the outcome. We aim to use original materials whenever possible. If original matierals can't be located, duplicating the original materials is the next best thing. From paint colors to the carpet, no detail is overlooked.
Reproduction Carpets
In order to achieve the highest level of authenticity in restorations, we've reproduced Pullman Fern carpet in brown and blue and have other styles in the design phase. Contact us today with your interest and we can provide samples.
Structural evaluation and rebuilding
We can assure you that rust never sleeps. Properly evaluating and reconstructing major structural components requires experience. Over the years, we have returned cars back to mainline operations that otherwise would have been scrapped. This includes replacing sidesills, corner posts, end sheets, floor pans and other major components.
Surface preparation and paint
The finish is only as good as the prepartion. We have been painting railroad equipment for over 35 years including locomotives and passenger cars, interior and exterior.
Pre-purchase inspections
Properly evaluating the condition of a passenger car before you purchase it is not something that you can afford to leave to anyone. We will discuss your requirements and determine if the equipment you are looking at matches your needs. We can even help with locating suitable equipment for sale. We will then perform a full pre-purchase inspection so that you fully understand the committment that will be required.
40-year truck rebuilds
Our shop is fully equipped to handle any truck work, including full rebuilds.
Head-end-power, MU-COMM installation
We believe that the underside of the car should look just as good as the car itself. To that end, we ensure that cabling for HEP and conduits for MU/COMM are installed properly and neatly.
Derailment repairs
We have the facility and tools to repair most damage caused by derailments, including truck and structural damage.